Welcome to our Spa Boutique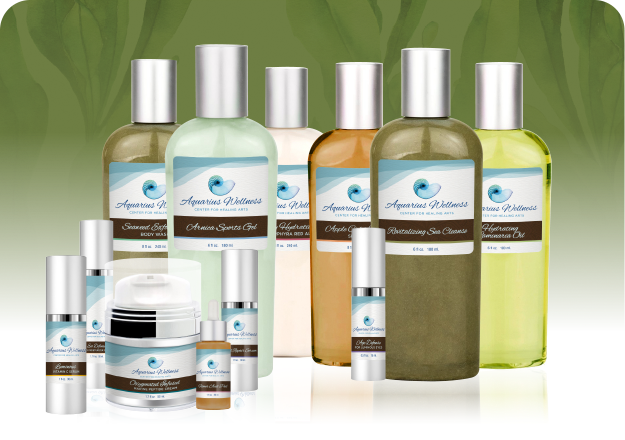 Gifts from the Sea
Please enjoy browsing a splendid assortment of Spa inspired Beauty products, elegant accessories, and luxurious gift items. Beautify your skin with the natural power of the sea through our Aquarius Wellness Signature Skin Care Line, enjoy a Spa-at-Home experience in our luxurious, Signature Spa Robes, and soothe your aches and pains with our all natural, handcrafted Therapy Pillows.
Our Secret Ingredient
All Aquarius skin care products utilize high percentages of seaweed and other active ingredients to make sure our customers get the most benefits possible from their skincare routines. Seaweed is rich in antioxidants, vitamins, and minerals, that protect cells against environmental aggressors such as ultra-violet radiation, pollution, smoking, and deficient nutrition, which is why all of our products include at least one kind of seaweed based ingredient. Our seaweed is sustainably harvested off the coast of Brittany in France.
Seawater contains almost identical chemistry as blood plasma, lymph and the fluids of the human body. From seawater, seaweed absorbs the same concentration of minerals and essential elements that our bodies need to survive. We turn to the ocean to restore, replenish and purify the ocean that is within all of us. We invite the healing ocean into our bodies to improve our quality of life and build our resistance against environmental aging aggressors!
Give someone special the ultimate Spa experience with an Aquarius Wellness Gift Card. Easy to use and never expire, our gift cards make it easy to give the gift of relaxation to your loved ones.
Subscribe To Our Newsletter
Subscribe To Our Newsletter
Please join our mailing list to receive the latest news and updates from our team.
We respect your privacy, your information is safe and will never be shared!