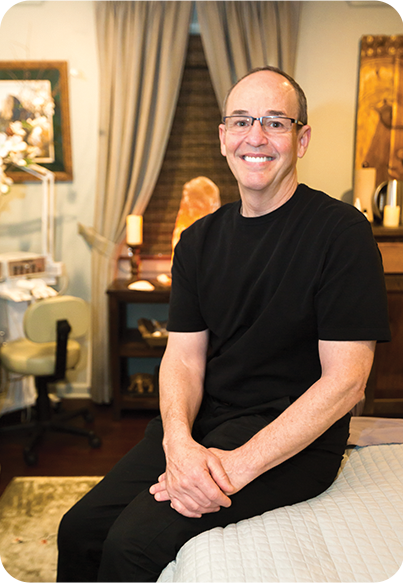 Aquarius Wellness is a uniquely serene and tranquil space in which to recharge and renew that's been lovingly created in the heart of St. Louis County… consider this hidden gem your private "Sanctuary for the Senses"! From the moment you walk through our door you will be surprised and delighted as this relaxing oasis begins to wrap you in warmth, soothe your nerves, and calm your mind.
The aromatherapy scents are heavenly, the lighting is subdued and ambient, the acoustics are peaceful and immersive, and the decor is eye candy for the spirit; from the cork floors, to the cozy fireplace, to the silk and linen curtains and furniture from around the world, no detail has been overlooked, and the home-away-from-home atmosphere will embrace you as if in a warm hug.
As will the exceptional services of our gifted and caring wellness providers who are ready to create a personalized experience for you which will last far beyond your time with us. Feel refreshed and renewed as we nourish body, mind and spirit… then carry it into the world and share it with others! We look forward to welcoming you to Aquarius Wellness and introducing you to our exciting menu of rejuvenating services. Think of them as comfort food for the soul.
Yours in Health and Wellness,

Andrew Goodman, Owner
Aquarius Wellness
Center for Healing Arts
Waxing Services & Add-Ons
The Spa offers a full complement of facial and body waxing services...
The Spa offers a full complement of facial and body waxing services...
Nam quis nulla. Integer malesuada. In in enim a arcu imperdiet malesuada. Sed vel lectus. Donec odio urna, tempus molestie, porttitor ut, iaculis quis, sem. Phasellus rhoncus. Aenean id metus id velit ullamcorper pulvinar. Vestibulum fermentum tortor id mi. Pellentesque ipsum. Nulla
One Tree Planted is a non-profit 501(c)3 organization focused on planting trees around the world. Anyone can get involved. One dollar plants one tree.
ReSurge's mission is to provide reconstructive surgical care and build surgical capacity in developing countries.